Chevy Silverado EV: Range, Interior, Reservation

If you're a trucker trying to figure out how to limit your reliance on the gas pump without compromising your business or daily schedule, the Chevy Silverado EV might be your answer. For over 100 years, people have looked under the hood of Chevy trucks and seen awesome raw power. However, with this coming vehicle, you won't see anything when you pop the hood — just an enormous trunk where old engines used to be. In there, you'll be able to store extra tools, gear, parts, and shopping supplies. The Chevy Silverado EV is going to be filled with surprising benefits when it rolls out for the 2024 model year. Scroll down to learn more about it.
Chevy Silverado EV Specs
For many, finding the right truck to buy means determining its toughness. Can it do what I want? The answer is "yes" across the board regarding the future capabilities of the Chevy Silverado EV. If you tow, this truck will blow your mind. If you need power, versatility, and space, the Silverado EV has it in spades. Let's take a look.
Your Chevy Silverado EV specs include a scalable battery platform, which Chevy claims can offer a maximum 200 kWh. For those new to the EV scene, that's like talking about the power potential of a V-12 or more. The Chevy Silverado EV will deliver up to 660 horsepower with 780 pound-feet of torque. When you combine this with the Max-Tow package, Chevy also states that you will be able to haul up to 20,000 pounds behind you, so long as it is properly equipped. You'll launch to 60 mph in about 4.5 seconds and have enough EV range to do it again and again.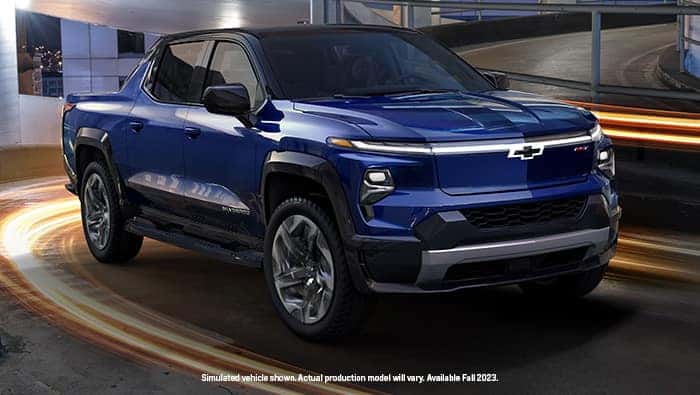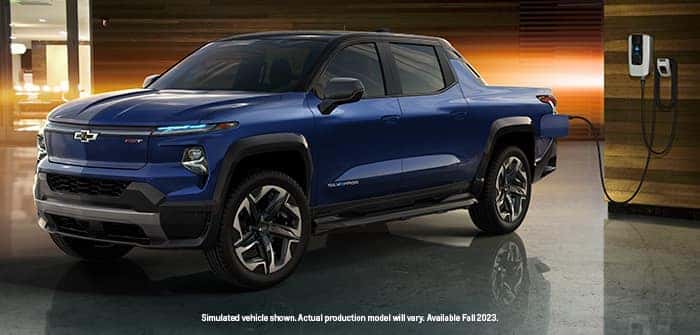 Chevy Silverado EV Range
Though the EPA hasn't had a chance to weigh in and test a production model 2024 Chevy Silverado EV, Chevy has been hard at work testing the numbers. The manufacturer states that you should see up to 400 miles on a full charge.1 For most of us, this is more than enough range to get to work, get home, get the kids from school, get them home, pick up dinner, then head out for date night.
The Chevy Silverado EV range is designed to keep you going. Plus, with America's charging infrastructure increasing all the time, there isn't any place you can't get to. Chevy also states that since all models will be fast-charge ready, you can replenish 100 miles of range every ten minutes1 to make life even easier. That's almost as fast as a gas fill-up.
The Stunning Chevy Silverado EV Interior
Dyer is the Chevy dealer in Florida where you'll want to get your first look at this vehicle sometime in the fall of 2023. Our team has been passionate about the Chevy brand for decades, and we've been prepping to make your ownership experience amazing. We've got the inside scoop on what's included in the Chevy Silverado EV interior, and we know you'll love having it be your home away from home.
We'll have work-ready models (like the Work Truck) and premium luxury models (like the RST). If you grew up learning to drive in a Chevy vehicle with three on the tree, then you'll love the nostalgic placement of the drive selector on the steering column. This opens up space for massive clutter-free storage in the console area of the Chevy Silverado EV.
You'll be driving a vehicle from the future, and the Chevy designers will make that experience come alive. You'll be wrapped in high-resolution digital screens that you can customize to suit your needs. Your Chevy Silverado EV will recognize your approach and greet you with illuminated animations outside and inside the vehicle. Once inside, you'll enjoy nearly 30 inches of LCD awesomeness, displaying key information just how you want it. Make your Silverado EV reservation now, and make sure to get yours on time.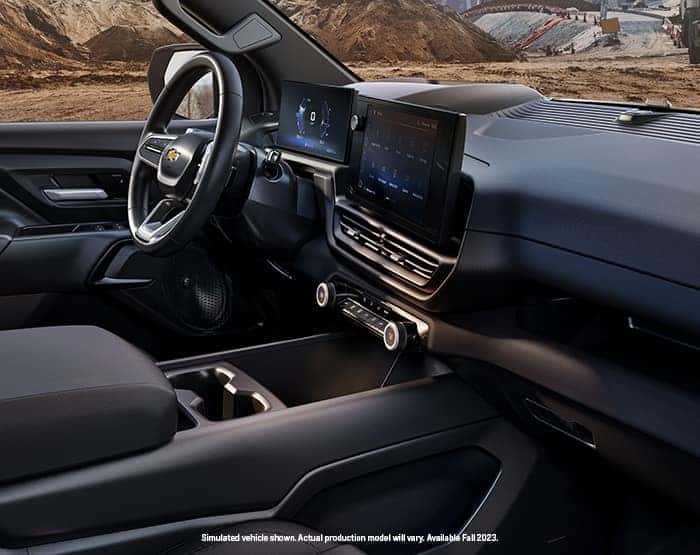 Your Silverado EV Reservation
You'll want to hurry and make your Silverado EV reservation ASAP. As you've probably seen with any new car, order calls fill as soon as they open, so contact a vehicle specialist about your new Chevy Silverado for sale. The EVs are coming. Stake your claim on the perfect one today!
FAQs About the New Chevy Silverado EV
Is the Chevy Silverado EV a full-size truck?
The Chevy Silverado EV will be a full-size pickup truck that does something no other Chevy truck has and that's run without an engine. Enjoy up to 660 horsepower and 20,000 pounds of towing capacity when this vehicle is properly equipped.
How big is the Silverado EV battery?
There can be a few different sizes when the Chevy Silverado EV comes to market. Using an innovative new platform, battery power can scale up to 200 kWh. When this vehicle shows up on our lot and you stop by for a test drive, we can show you where the battery is located and its size in person.
How long does it take to charge a Silverado EV?
The Chevy Silverado EV will come equipped with fast-charge technology in all trims. With that, your Silverado EV can replenish 100 miles of driving range about every ten minutes. You can also talk to our team members if you want specific information about the installation of a home charger and what charging speeds you can expect.
---
1First edition RST GM-estimated range on a full charge based on current capability of analytical projection consistent with SAE J1634 revision 2017 – MCT. Actual range may vary based on several factors, including temperature, terrain, battery age, loading, and how you use and maintain your vehicle. EPA estimates not yet available.