Donate & Save At Dyer Chevy Fort Pierce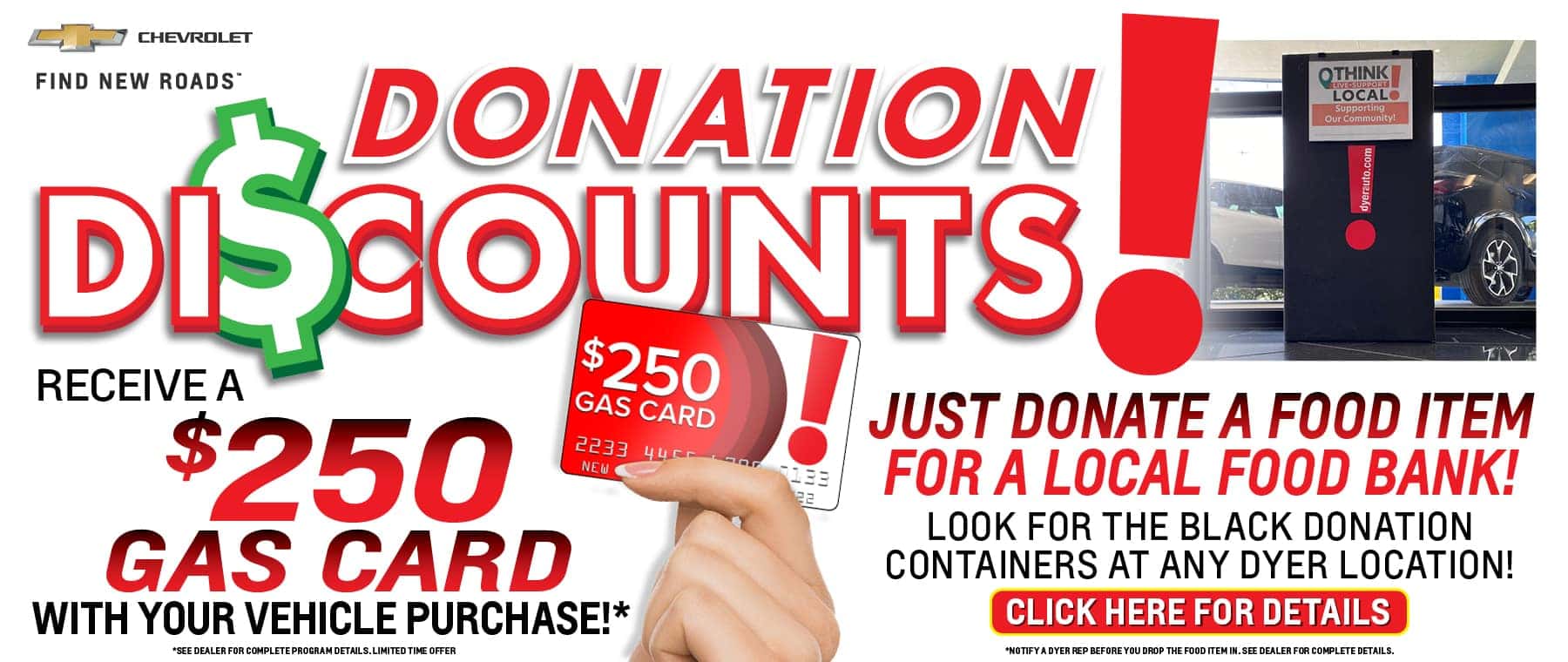 We're proud to live in Fort Pierce, FL. A city in Florida that knows what it means to serve. We've got a strong tradition of being a staging area for those that protect our freedoms, but we're also a city that knows how to protect those that are less fortunate. If you're looking to buy a new vehicle, a used vehicle, or save on service, we've created a program called Donate & Save at Dyer Chevy Fort Pierce. When you partner with us to help our favorite charities throughout the year, we'll give right back to you when it comes time to do business with us. Read more about our charities below.
Helping Us Help Others Helps You
Giving is such a great feeling, especially when you've carved out success in your own life. By making a charitable donation to one of the following organizations, you inspire hope, help create jobs, and improve the well-being of some of the most vulnerable members of our community. Here's a list of just some of the charities that need your help:
Family Meals & The Treasure Coast Food Bank – Family Meals helps over 3000 families during the holidays. Known as the "invisible poor," these families don't qualify for food stamps, yet they struggle to make ends meet. This charity ensures that each family receives the necessary ingredients to experience abundance at their holiday table. The Treasure Coast Food Bank serves over 100K children, seniors, veterans, and families per week. Additionally, they offer education & training to create a road map to long-term self-sufficiency.
Backpacks – In a unique partnership with LaPorte Farms, we'll ensure that school-bound youngsters get the supplies they need to make the most of their time at school and home. By providing these essentials, we help our future community leaders discover their community & the world.
Help A Furry Friend – There's no end to the wonderful organizations that cater to rescued animals in our area. From health & wellness to no-kill adoption services, these places in Fort Pierce need your help.
Toys for Tots With over 604M toys delivered to date, you can help the United States Marine Corps on their most crucial mission yet: caring for our less fortunate children. By providing a new, unopened toy in our donation containers, you allow the U.S. Marines to collect them for distribution for underprivileged or hospitalized children on Christmas.
If participating in this program interests you, please reach out to a teammate for more information. We have targeted charities for each quarter of the year to ensure that our charitable efforts are spread as far as they possibly can go. Thanks for choosing Dyer, and thanks for helping us make a difference.