2023 Chevy Camaro Release Date, Interior, Specs & Colors

The 2023 Chevy Camaro marks the 66th birthday of this top muscle car name, and the celebration will be great. New styling options are on the horizon, rumors of a new engine are swirling, and much more surrounds this latest version. You'll find all the high-octane thrills and great features you've come to love on top of added benefits. Read on to see what's new with the 2023 Camaro, and once it arrives, join us at Dyer Chevy Ft. Pierce for a test drive.
2023 Chevy Camaro Release Date & Rumors
While the official 2023 Chevy Camaro debut has not been confirmed, we've heard it'll arrive sometime around late August or Fall 2022.
The first of the 2023 Camaro rumors involves firepower. This is purely speculation, but the 2023 Chevy Camaro could be powered by the LT2 6.2-liter V-8 engine from the C8 Corvette. The Camaro borrowed its currently available LT1 6.2-liter V-8 engine from the C7 Corvette, after all. The 2023 Camaro SS and LT1 trim levels could offer 490 horsepower and 465 pound-feet of torque if it does.
However, 2023 could also be the last year for gas-powered Camaro models. While the 2023 Chevy Camaro convertible and coupe could be the final ones with internal-combustion power, an all-electric Camaro powered by Ultium could offer new performance thrills.
We're awaiting official confirmation of these rumors and will keep you updated.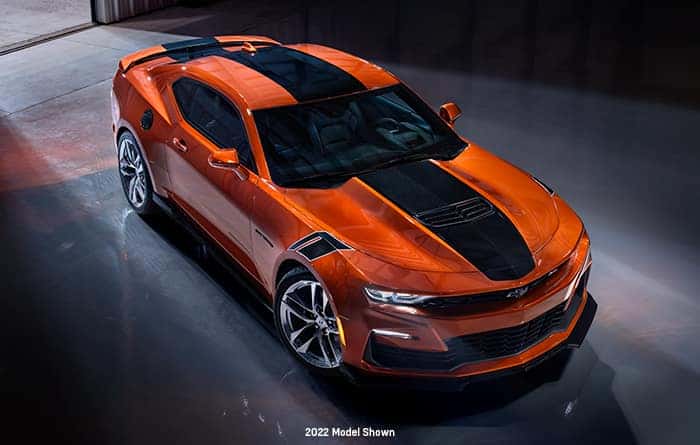 Is the 2023 Chevy Camaro Mid-Engine?
The mid-engine Corvette was decades in the making; the 2023 Chevy Camaro will not switch to a mid-engine layout. Why? The Camaro is a muscle car: front-engine power with RWD is the gold standard for muscle thrills. The Corvette is a sports car, and mid-engine agility fits its purpose with immense accuracy.
2023 Chevy Camaro Specs
The Camaro may not offer the strongest Chevrolet fuel economy compared to common daily drivers. However, next to equally powerful muscle cars, the Camaro MPGs are hard to dethrone.
The 2022 Camaro delivers up to an EPA-estimated 30 MPG highway,1 and for 2023, we only expect its fuel economy to improve. As mentioned, the 490 horsepower LT2 6.2-liter V-8 engine from the C8 Corvette could boost its power. However, even if it doesn't, the 2023 Chevy Camaro specs will likely top out with the incredible LT4 6.2-liter supercharged V-8 engine with 650 horsepower.
Moving on, we're expecting the 2.0-liter turbocharged four-cylinder engine and 3.6-liter V-6 engine to remain as they are, a manual transmission to still be offered, and the 2023 Camaro 0-60 mph time to still be as fast as 3.5 seconds.

2023 Chevy Camaro Interior Benefits
The 2023 Chevy Camaro interior will naturally be the premium throne of power you're familiar with. For example, your 2023 Chevy Camaro could come equipped with RECARO front performance seats, a nine-speaker Bose® premium sound system, a head-up display, and so much more.
With exclusive bits like 24-color interior spectrum lighting, it's not hard to see why the 2023 Camaro will likely take the top spot in our selection of new Chevy specials.
2023 Chevy Camaro Colors
The most significant confirmed change for the 2023 Chevy Camaro is the inclusion of two exciting new colors. You can expect to see the following 2023 Chevy Camaro colors available:
Sharkskin Metallic (new)
Radiant Red Tintcoat (new)
Black
Shadow Gray Metallic
Summit White
Rapid Blue
Riverside Blue Metallic
Red Hot
Vivid Orange Metallic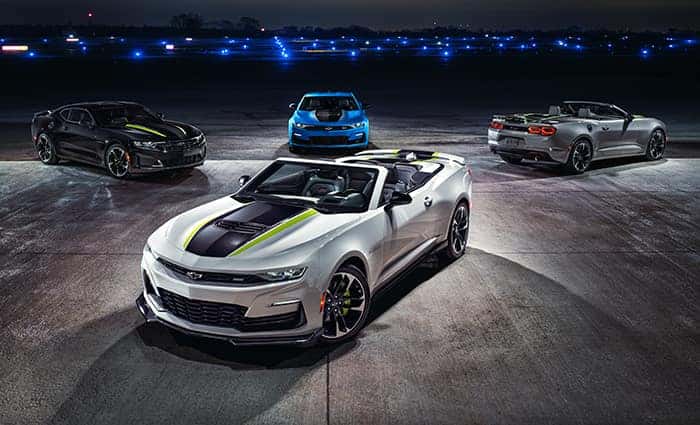 Find Your 2023 Chevy Camaro at Dyer Chevy Ft. Pierce
More details about the 2023 Chevy Camaro are coming out, and we'll keep you updated as this potential swan-song of thrills approaches. For now, swing by our Chevy dealership to learn about submitting a factory order for the upcoming 2023 Camaro.
Frequently Asked Questions
Will Chevrolet make a 2023 Camaro?
Yes, the 2023 Chevy Camaro is coming soon but is rumored to be the last of the gas-powered Camaro legacy. Speculative rumors estimate that the Camaro could receive electrification in 2024, but whatever the case may be, the 2023 Camaro will have gas engines available and is confirmed to be the beast that you'd expect it to be.
What's new for the 2023 Camaro?
Rumors surrounding the 2023 Chevy Camaro speculate that the C8 Corvette V-8 engine could join its under-hood arsenal. However, confirmed changes for 2023 include the addition of Sharkskin Metallic and Radiant Red Tintcoat exterior paint options.
---
1EPA-estimated MPG city/highway: Camaro LS/LT with 2.0L 4-cylinder engine and 8-speed paddle-shift automatic transmission 22/30; Camaro LS/LT with 2.0L 4-cylinder engine and 6-speed manual transmission 19/29.