RV Repair [& Service] In South Florida At Dyer Chevy Fort Pierce

Dyer Chevy makes RV repair and service easy. Let's face it; some RVs out there cost more than some people's houses. You need reliable technicians who are up to the task. If you drive anything from a road-owning Class A to a rough and ready adventure trailer, we can handle it! We've got diesel mechanics, hydraulic specialists, and heavy equipment engineers on hand who have seen and done it all. Pass right by those other places that are booked six weeks out and get your RV repaired by one of the most trusted names in South Florida. Dyer Chevy is your RV service shop and more. See why on this page.
It's a Bird. It's a Plane. It's RV Repair Man!
Our RV repair and service center has come to the rescue of many drivers in distress. We handle all the top RV issues like:
Water lines & water tank issues
Toilet issues (you don't wanna do that one yourself)
Tire issues
Roof and window issues
Brake issues
Axel issues
Suspension Issues
Cooling system issues
And even if you're not coming in for routine maintenance or breakdowns, we're well aware that accidents happen, like that time you thought you could beat that low overhang sign and did some damage to your roof. The body shop portion of our RV repair and service department can help with your RV repair! Roof fixes can be done in a snap.
RV Repair Parts at Your Service
You don't just have to be a snowbird to enjoy Florida as a destination. You might be somewhere along the way on a cross-country trip and need to load up on parts. If that's the case, swing on by, call ahead, or use our RV repair parts form to get what you need fast. We'll make sure that you're stocked up with the fluids you need and all those handy spares that make the difference from a night spent on the road vs. broken down on the side of it.
So Many States. So Many RV Repair Shops.
If you're local, then you know our name. If you've come from as far away as Alaska and have found us en-route by searching "RV repair near me," you've come to the right place. Around here, folks know us because of the Dyer Difference. Our difference is in our service quality and commitment to our customers. If you need something special when others have fallen short, please let us know. Let us prove to you how we are different. For your convenience, here are some common FAQs that many other travelers and wanderers have found useful: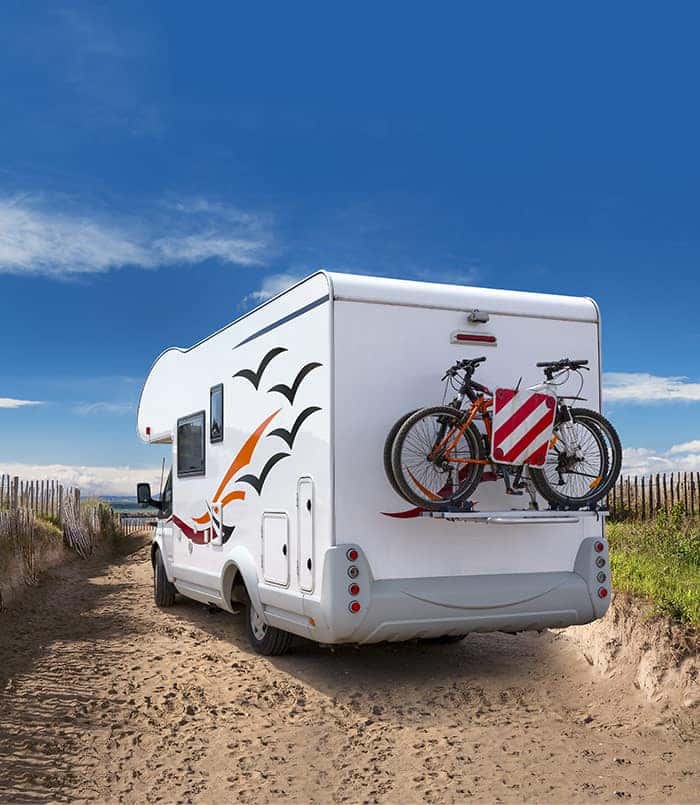 What are the most common problems with RVs?
If you drive an RV, then you know almost anything can happen out there in the great wide open. However, these seem to be the most common issues:
Burst water lines
Tire blowouts
Toilet malfunctions
Battery failure
Window & roof leaks
The good news is that Dyer Chevy is ready to tackle all of these issues at our RV service and repair center.
What goes wrong with travel trailers?
Travel trailer problems are diverse! Oftentimes, trailer problems manifest after a particular travel trailer has been pushed to the extreme or even neglected. We always recommend a pre-trip inspection no matter how good you think your RV is.
How often do RVs need repairs?
This answer depends largely on usage, but if we're looking to apply the law of averages, about 30% of all new RVs will need some type of major repair in their second year of service. Nearly all RVs will be needing some type of overhaul around their 8th year.
Are RV protection plans worth it?
You never need insurance until you need it. And when you need it, you need it. RVs are pleasure vehicles. Do you really want to worry about anything while you're taking in the scenery? An RV protection plan can be worth its weight in gold.
It's a beautiful country out there, and an RV is a great way to see it all. Like any other machine, you're going to want to take care of it. We encourage you to give our RV service and repair center a call for rapid service. We can't wait to help you get back out there!